There are toys that are never outdated and are very good for your baby because they stimulate positively his physical abilities and his logical reasoning.
These toys, I have used also for my children and they worked really well.
The other day a friend came around and I reused some of these toys with her baby.
He was having so much fun that I thought it could be useful to write this article for you, in case you have or are going to have a baby and are not sure about what toys you can buy.
Swinging horse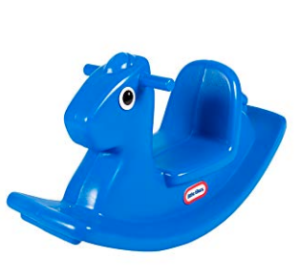 Who doesn't like to have a ride in a horse, galloping enthusiastically in mummy's direction? This toy gives hours of fun.
Box with shapes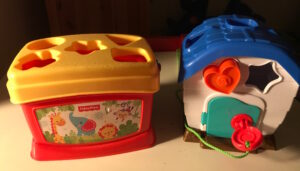 My boy loved to put the shapes in the right place, but my girl, for example, was more enthusiastic with the version of this toy that has a key to open and shut a door. Both are good to improve fine motor skills.
Rings, cups or other toys that fit by size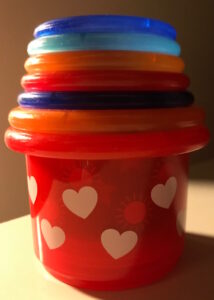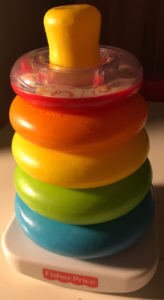 Your baby will certainly intermingle in the beginning with these toys and put the rings in the wrong position or get confused with the right cup position, but soon all will become clear and you can also use the rings to teach colors and to put them spinning while he looks attentively or make some towers with the cups and watch them fall out.
Montessori shapes

This one can be a brain teaser the first times, but great for logical reasoning. You can also use it to teach counting the first numbers while he puts it in the holes; to teach shapes and also colors (once each shape has its own color).
Toys with music or sounds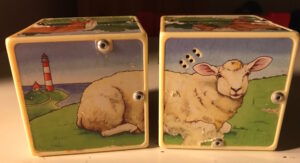 No need to tell how music can have such a positive impact on children's brain and emotions. Babies want to capture all sensations around them,  so this kind of toy can bring lots of fun and stimulate sensations.
This one you see in the image is a puzzle and each time you join the right parts of the animal and put it together, your baby will listen to the correspondent animal sound. My children are still enjoying it nowadays.
Share with us other classic toys that in your opinion are worth it. Is always good to hear from you.